---
Induction Solutions for Back-of-House Applications
---
Optimize your back-of-house operations with the power of induction – our BOH Series induction flameless cooking carts, cabinets, and cooktops offer cleaner, more efficient & safer cooking, prepping, and warming than traditional gas or electric cooking solutions.
Spring USA induction ranges, carts, cabinets, and cooktops are 94% efficient in delivering energy to the pan - as compared to traditional gas (35%) and electric cooking units (50%). Greater energy transfer results in less emitted heat, greater utilization of energy, and reduction of fuel usage - all translating to savings and convenience for back-of-house settings.
Designed for Foodservice professionals, by Foodservice professionals. Working for more than 30 years with chefs, cooks, and foodservice operators that require professional-grade solutions, our BOH Series collection of products feature the same quality, performance, and design by Spring USA.
---
BOH Flameless Cooking Solutions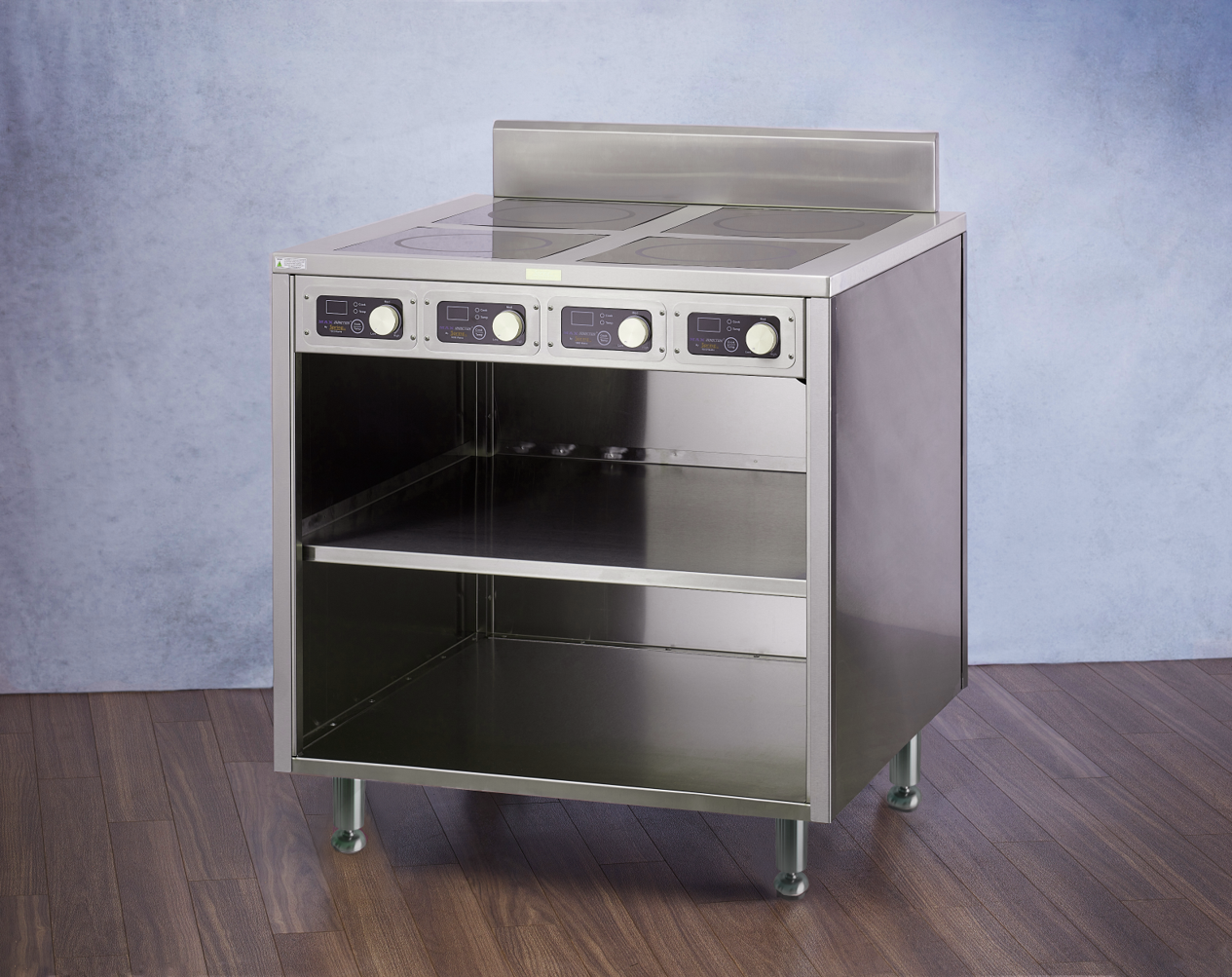 Flameless Cooking Induction Cabinets
4-zone and 6-zone cooktop cabinets constructed to industry-standard sizes so you can easily replace traditional stoves and ranges with energy-efficient induction performance.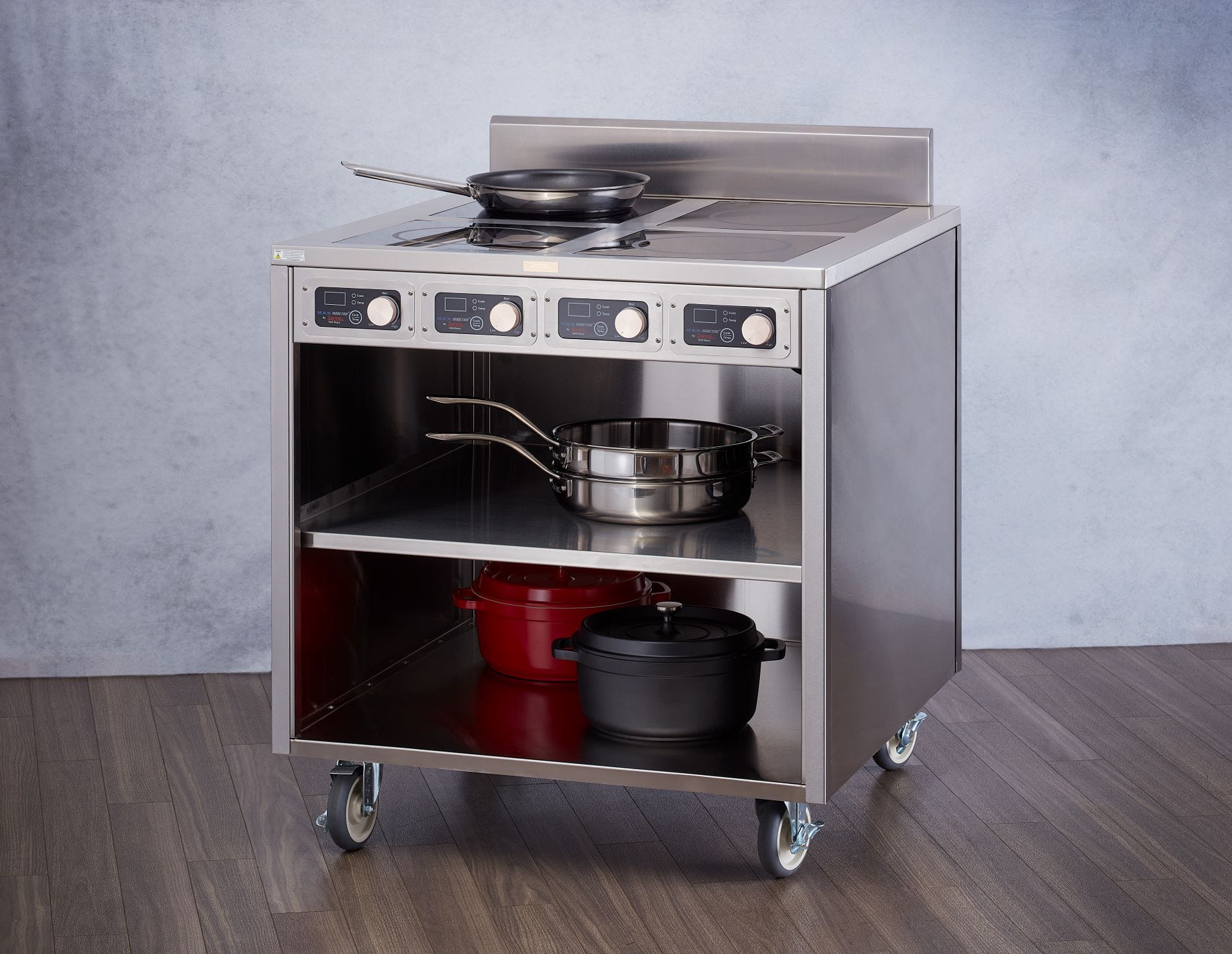 Flameless Cooking Induction Carts (with casters)
4-zone and 6-zone cooking carts outfitted with induction ranges based on your power needs, all within an expertly-welded, stainless steel cart with heavy-duty casters.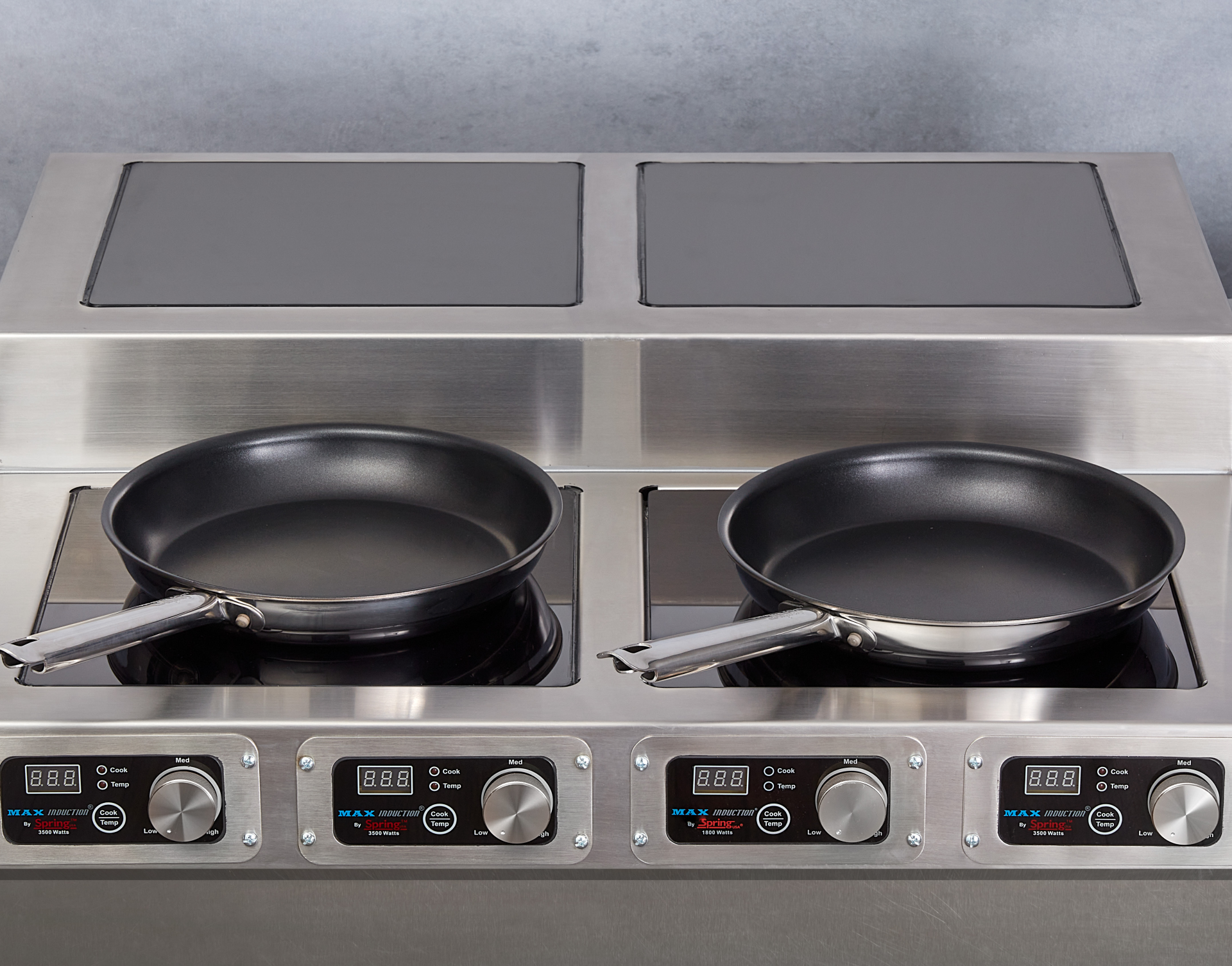 Flameless Cooking Induction Cooktops
Countertop induction cooktops easily and quickly add induction to your BOH operation with powerful performance and control for professional cooking and finishing.



Powered by the Leaders in Induction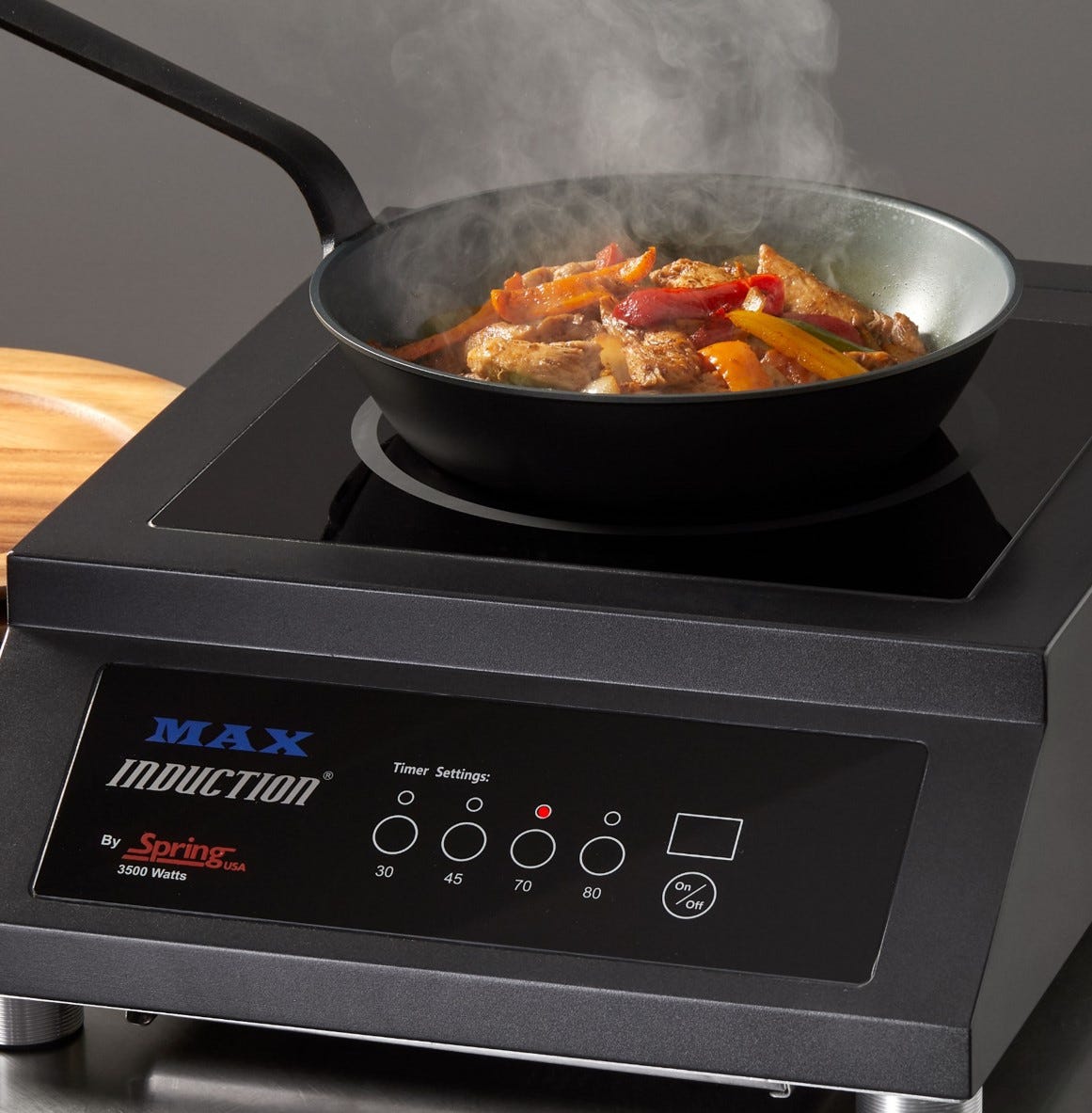 Our BOH Series collection features our flagship MAX Induction ranges, the USA's first and finest induction ranges for commercial cooking. Guaranteed durable and reliable, each of our induction ranges are expertly crafted to meet rigorous testing and performance standards.
We don't just guarantee it, we prove it with industry-proven +99% uptime and an overnight exchange warranty.
Features:
• Exclusive Smart Scan® Technology
• Automatic Pan Recovery
• Premium tempered glass top
• Energy-efficient performance
Convenience of Induction
Our BOH induction range carts, cabinets and cooktops include 4 or 6-zones that independently power and operate. Independent zones allow for ranges to easily be removed for range repair or replacement. No technician required, zero service calls - just pop out the range and ship per our standard overnight replacement warranty.
Power Based on your Needs

Our BOH induction range line-up includes a variety of high-power models from 1800W - 3500W that can be swapped out for the perfect configuration.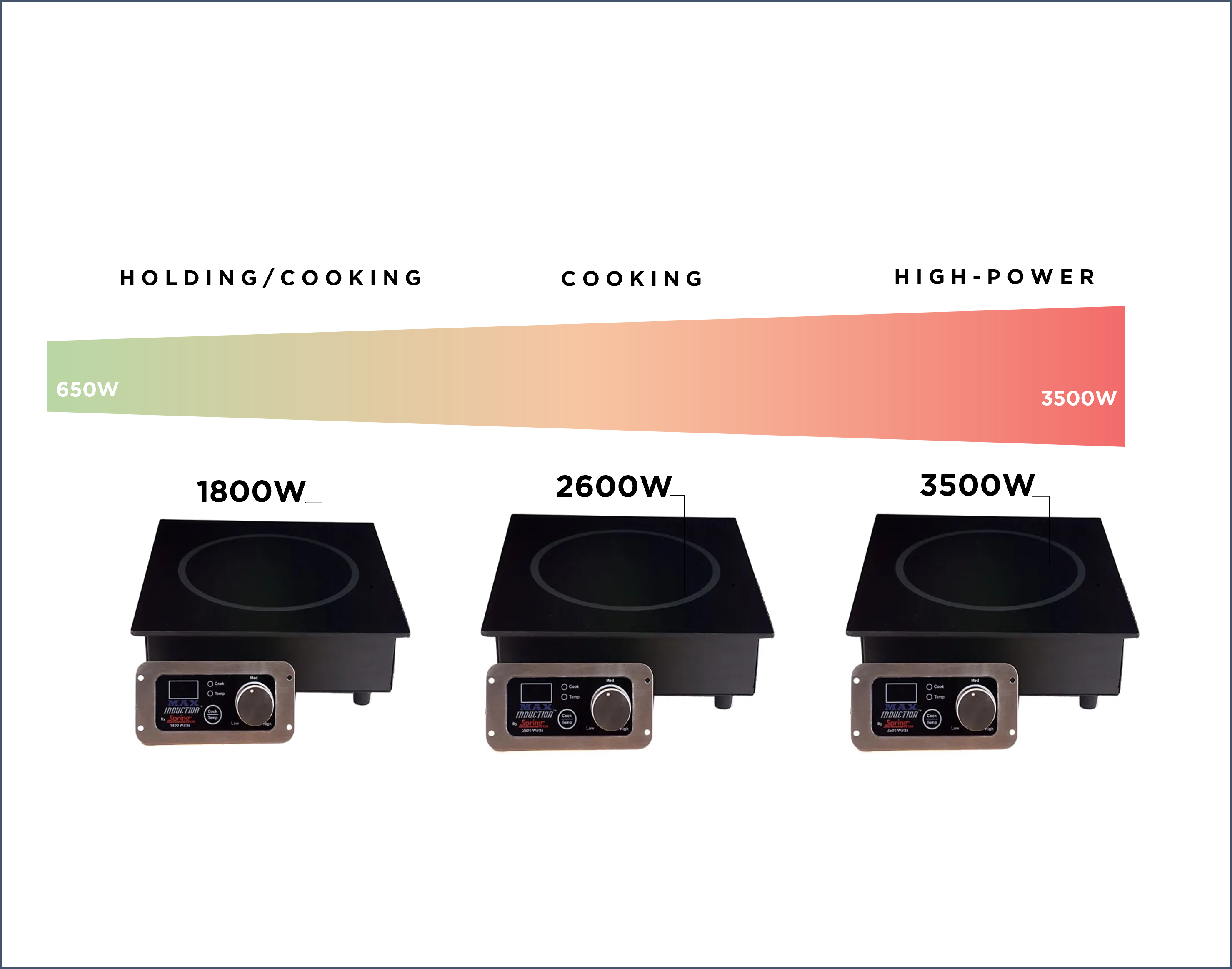 Design that Keeps up with BOH
Easy Installation
Our BOH Collection provides an energy-efficient alternative to traditional gas with induction carts and cabinets built to industry-standard sizes so you can easily slide-in induction to replace traditional stoves and ranges.
Smarter Design for Professional Foodservice
Premium stainless steel construction with fully-sealed welds to reduce harboring of food particles and bacteria. Interior shelf for storage, optional doors and casters, and integrated induction range controls provide optimal control in back-of-house settings.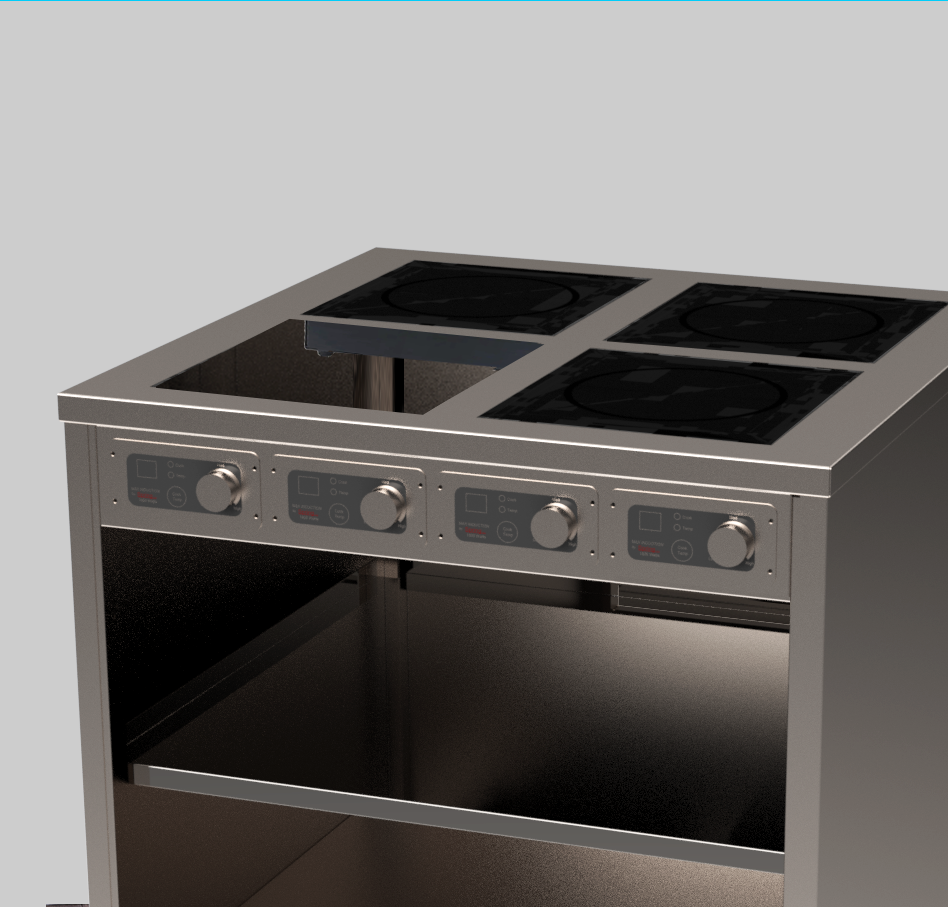 Flameless Cooking Induction Carts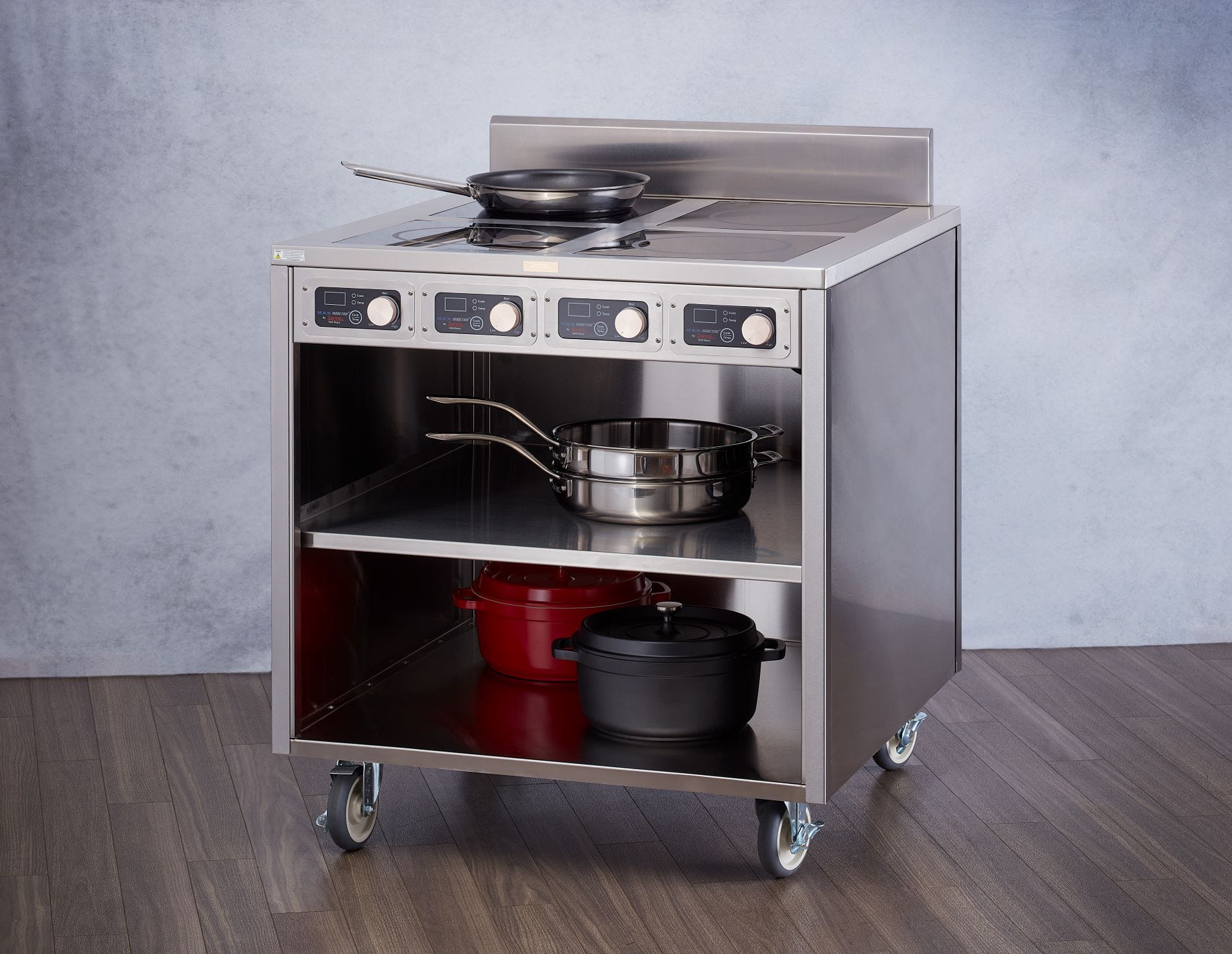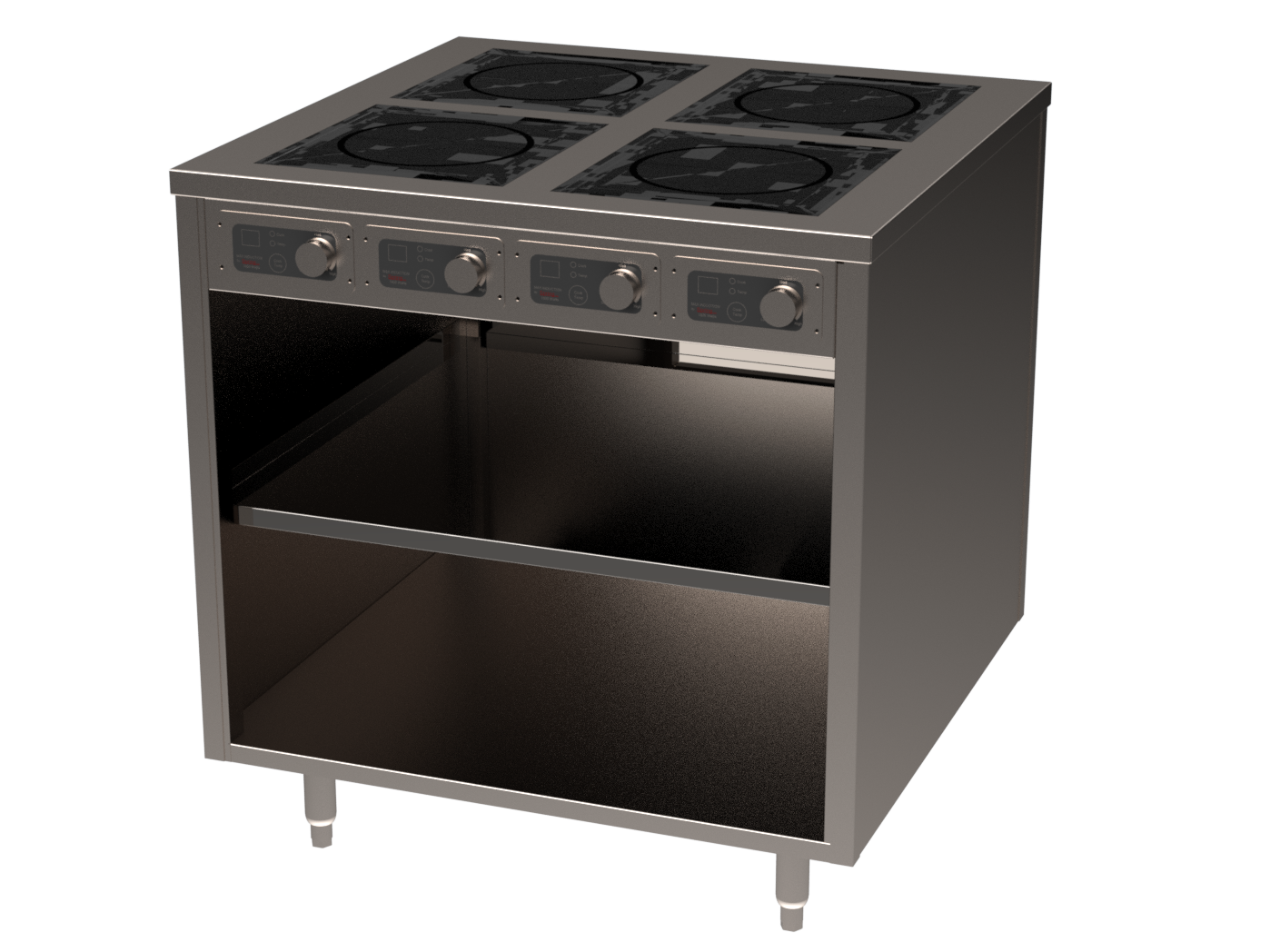 BOH 4-zone 1800W Induction Cabinet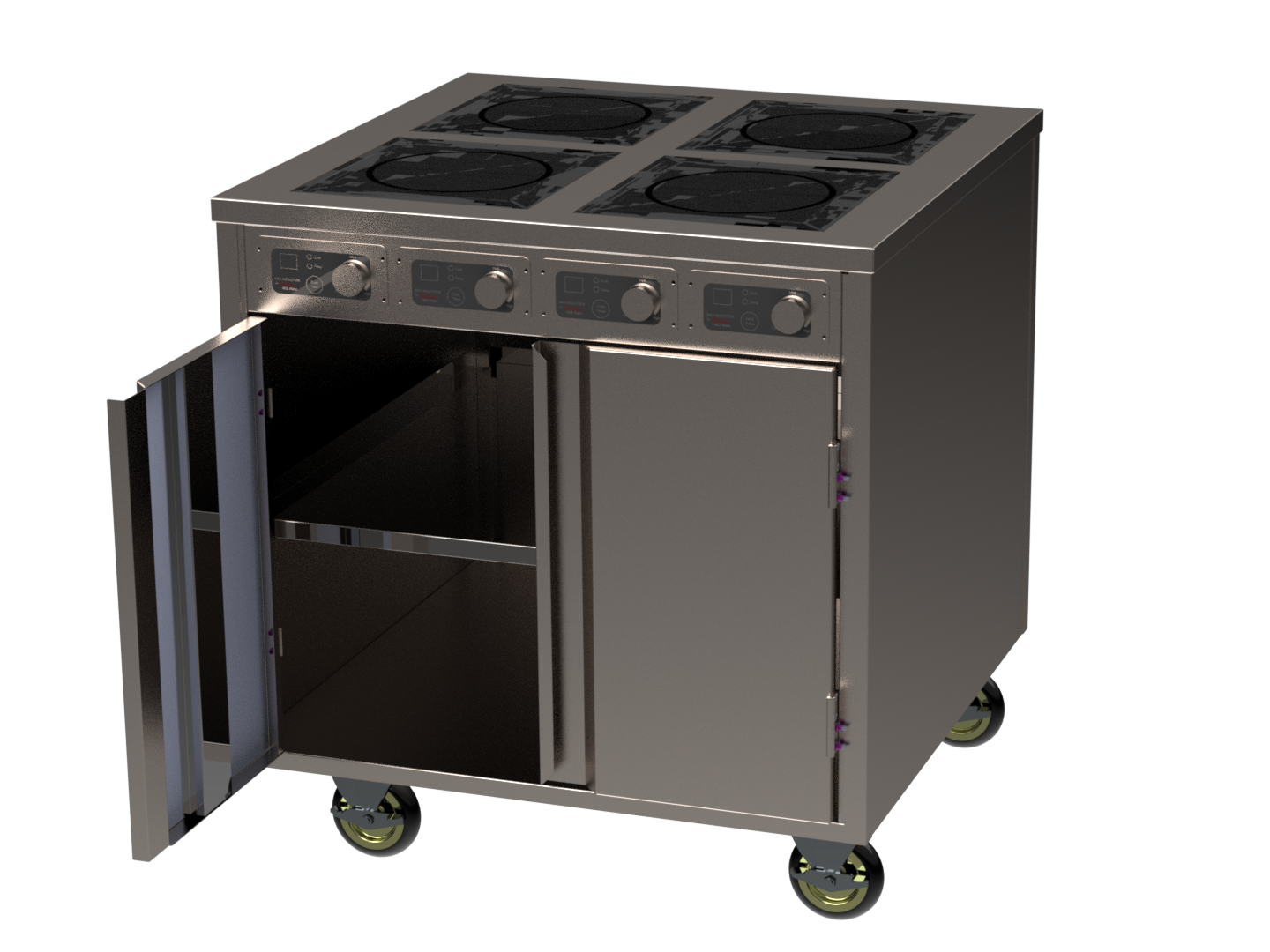 BOH 4-zone 1800W Induction Cart w/ Doors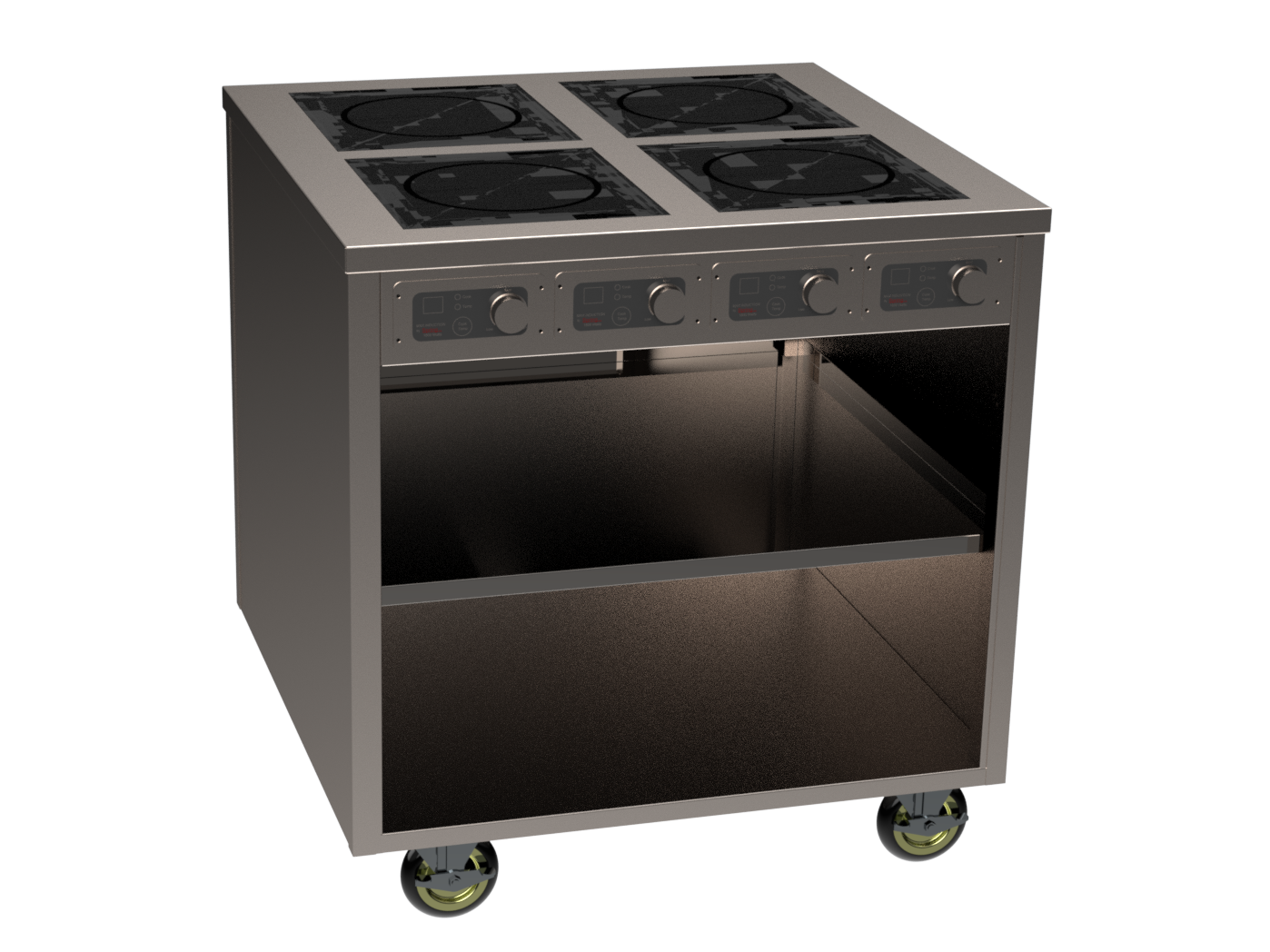 BOH 4-zone 2600W Induction Cabinet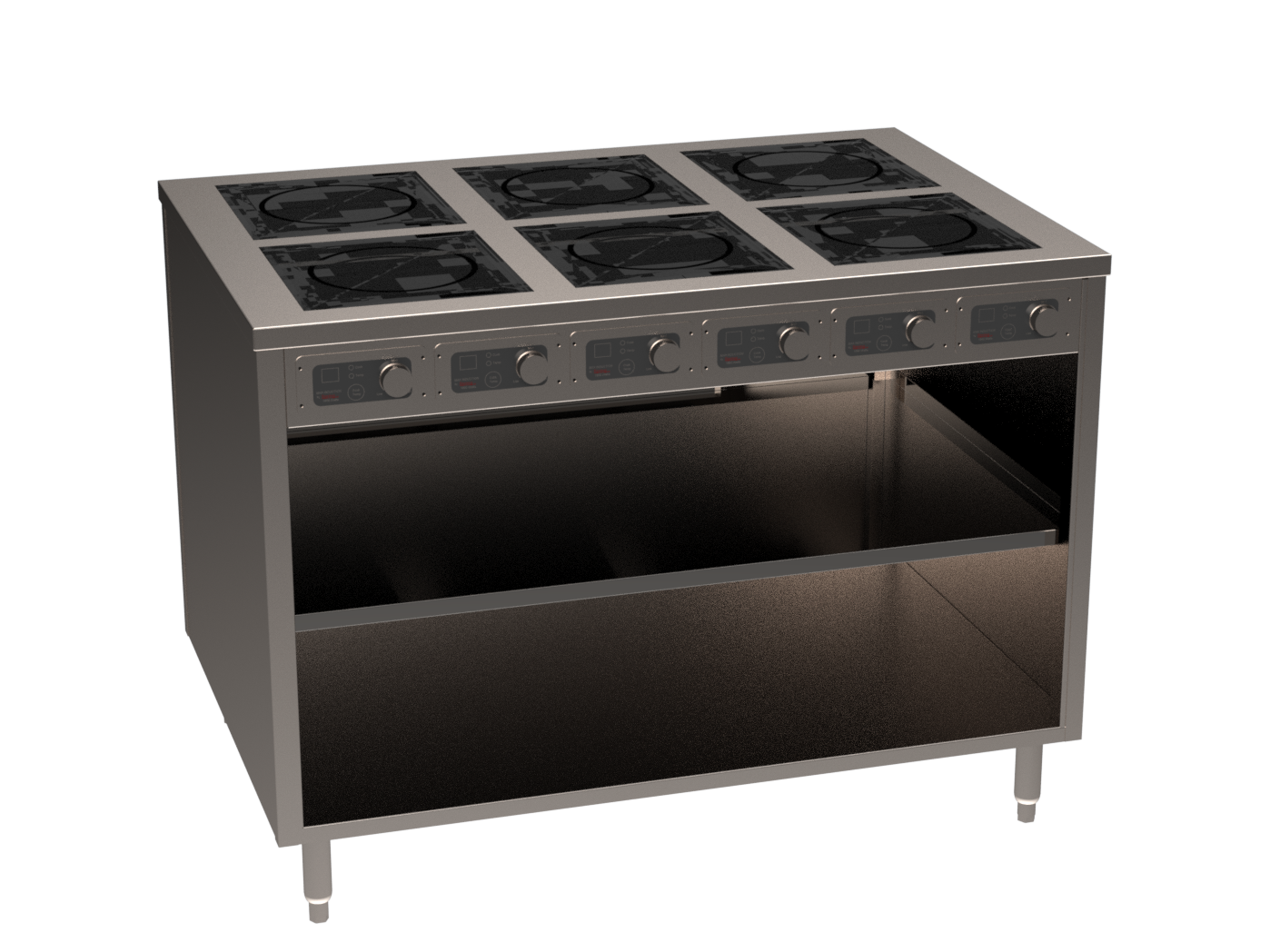 BOH 6-zone 3500W Induction Cabinet
Custom BOH Solutions
Looking for something custom? Want to talk to our experts?
We are your induction leaders, working with foodservice professionals on their induction and foodservice needs for over 30 years. Reach out to us with your projects, requirements, or ideas - we are here to serve you, let's see what we can build together.
Web-form is not active.